Winter Container Planters in Minnesota
https://landcraft.biz/wp-content/uploads/2019/12/container-planter-winter-minnesota.jpg
700
960
Landcraft
Landcraft
https://landcraft.biz/wp-content/uploads/2019/12/container-planter-winter-minnesota.jpg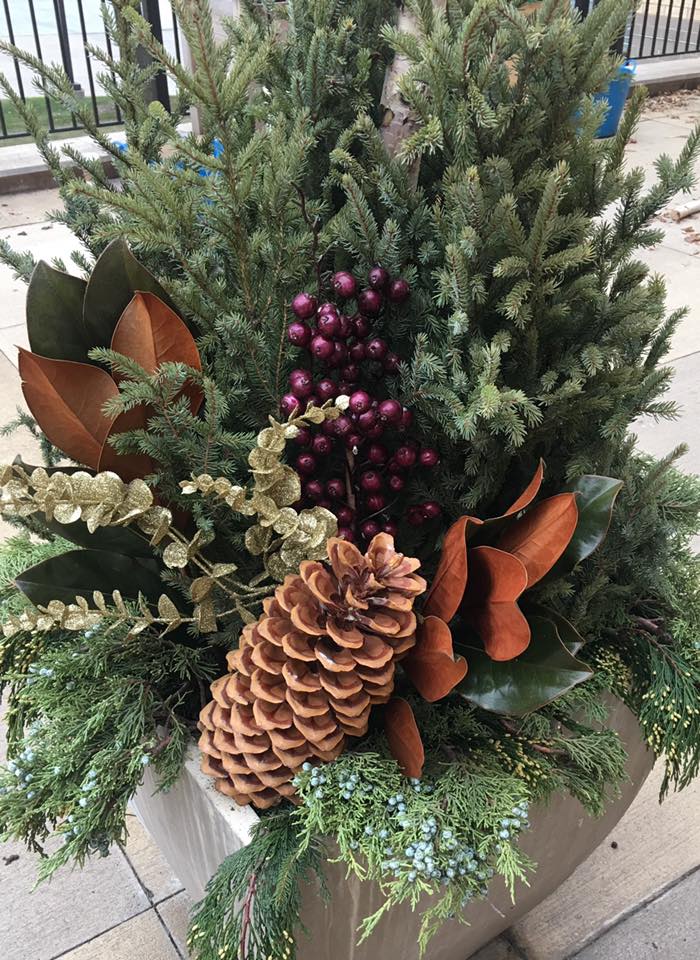 Winter Container Planters in Minnesota
Add some holiday cheer to your outdoor patio with a custom container planter with LandCraft
#ContainerPlanter #Winter #Landscape
#Design #Minneapolis #Minnesota
It is fun to celebrate with designing your seasonal container planters.  Add color, texture, hardy plants, and seasonal cuttings to your landscape design this winter.
Here are some Hardy Plants that we love to work with:
HARDY PLANTS
1. 'Elegantissima' redtwig dogwood (Cornus alba 'Elegan­tissima', Zones 2–8)
2. 'Ivory Tower' Japanese holly (Ilex crenata 'Ivory Tower', Zones 5–7)
3. 'Golden Sword' yucca (Yucca fila­mentosa 'Golden Sword', Zones 4–11)
4. Japanese pieris (Pieris japonica, Zones 6–8)
5. 'Bressingham Ruby' bergenia (Bergenia 'Bressingham Ruby', Zones 4–8)
6. 'Caramel' heuchera (Heuchera 'Caramel', Zones 3–8)
7. Variegated vinca vine (Vinca major 'Variegata', Zones 7–9)
8. 'Green Mountain' boxwood (Buxus 'Green Mountain', Zones 4–9)
9. Pansies (Viola × wittrockiana cv., Zones 8–11)
10. 'Ice Dance' Japanese sedge (Carex morrowii 'Ice Dance', Zones 5–9)
11. 'Angelina' sedum (Sedum rupestre 'Angelina', Zones 3–9)
12. 'Snow Angel' heuchera (Heuchera sanguinea 'Snow Angel', Zones 3–8)
13. Beaked yucca (Yucca rostrata, Zones 5–11)
14. 'Plum Pudding' heuchera (Heuchera 'Plum Pudding', Zones 4–9)
LEAVE YOUR LANDSCAPE TO THE PROFESSIONALS AT LANDCRAFT
CONTACT LANDCRAFT
Landcraft is your local Minneapolis Urban Landscaping company that can work with your budget and give you options on how to give you the backyard you have been dreaming about.  Contact us to learn more about us and to get a quote on your next backyard project.
PHONE: 612-834-8481