Our Top Summer Blooming Perennials
https://landcraft.biz/wp-content/uploads/2021/04/colorful-flower-garden-1024x643.jpg
1024
643
Landcraft
Landcraft
https://landcraft.biz/wp-content/uploads/2021/04/colorful-flower-garden-1024x643.jpg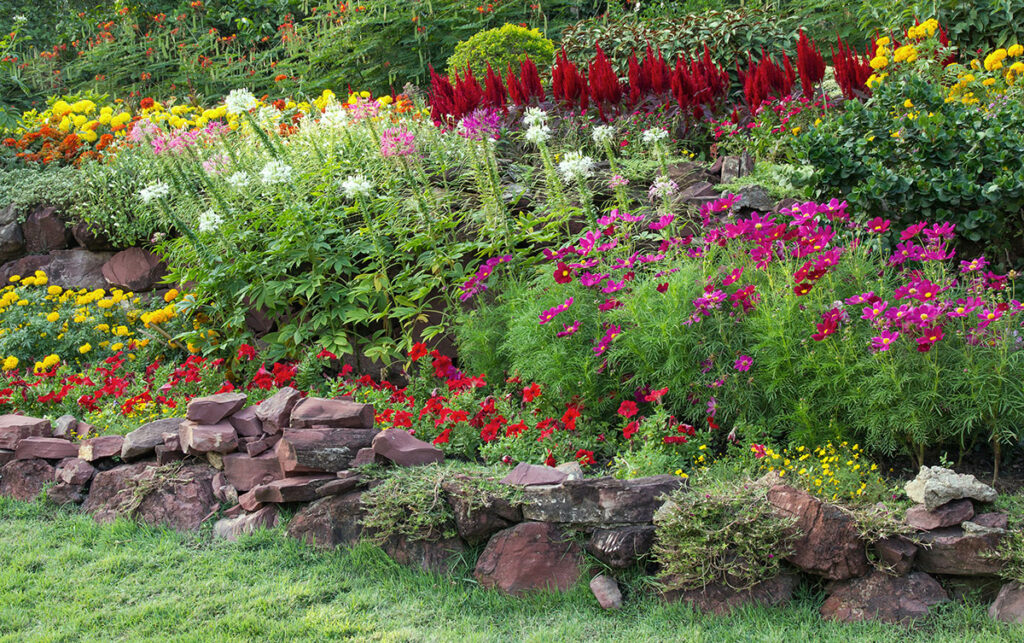 Our Top Summer Blooming Perennials
Perennials
Bring on the summertime colors and backyard dreams! We are excited to add color to your landscape design in Minneapolis, MN. And when we say color, we mean our favorite summer blooming perennials.
Contact LandCraft to customize your backyard oasis based on your needs, wants and how much time you have for maintenance.
1. Phlox
Garden Phlox has fragrant and showy blooms in pink, purple, white or red.  It is great for cutting or tall borders.  Plant in sun to part shade.  Phlox also attracts butterflies!
2. Hardy Hibiscus
Hardy hibiscus loves full sun and attracts both hummingbirds and butterflies.  It starts blooming late in the summer producing huge flowers in shades of red, pink or white.  The plant dies back in the winter and is very late to break dormancy.  It is usually mistaken for dead, but give it time and you'll be rewarded with spectacular color!
3. Shasta Daisy
Shasta Daisies will always brighten up your day! This classic perennial has large white blooms that last until early fall.
4. Coneflower
Coneflower is a mid-summer bloomer that's a great cut flower.  There are many different varieties of plants, you're sure to find one that's right for your garden.  Coneflower is deer resistant and attracts the best butterflies. 
5. Black-eyed Susan
Rudbeckia or Black-eyed Susan is a must for the summer garden.  It blooms from July to September. It is deer and rabbit resistant and also attracts butterflies to your landscape design. 
Read full article to learn more: https://www.englishgardens.com/summer-blooming-perennials/
CONTACT LANDCRAFT AND LEARN MORE ABOUT WHY WE LOVE PERENNIALS.
LANDCRAFT IN MINNEAPOLIS, MN
EXCEPTIONAL URBANSCAPE DESIGN
Every outdoor project needs a plan. Let us help you imagine and design your outdoor spaces.
Plants are our specialty. We have been in the landscape industry, in Minnesota, for 23 years. We know what plants thrive in our climate and love to use native plants whenever possible.
SERVICE YOU CAN COUNT ON.
LandCraft is dedicated to providing you with a design, installation, and garden maintenance plan that is unique to your time and tastes.
Our first priority is to provide timely service, prompt answers to any of our client's questions, and listen to our client's needs. These are the tools for creating a unique design, a worry free installation, and a great after care program for your landscape.
CONTACT LANDCRAFT
Landcraft is your local Minneapolis Urban Landscaping company that can work with your budget and give you options on how to give you the front yard you have been dreaming about. Contact us to learn more about us and to get a quote on your next backyard project.
PHONE: 612-834-8481
REQUEST A PROJECT QUOTE
Minneapolis, MN
Looking to get an estimate on one of your outdoor landscaping projects in Minneapolis, MN? Request a Project Quote on our website.
Read full article: https://www.ruralsprout.com/butterfly-bush/?fbclid=IwAR0oQHDy7d1o44JIu0U19P0xC5dU7X3kEP_Fi2HHZUShdF2Qz7lvj9iGUWk