Now Hiring – FOREPERSON/CREW LEADER
https://landcraft.biz/wp-content/uploads/2018/01/FOREPERSON-CREW-LEADER-LandCraft-Msp-Landscaping-Now-hiring.jpg
920
600
Landcraft
Landcraft
https://landcraft.biz/wp-content/uploads/2018/01/FOREPERSON-CREW-LEADER-LandCraft-Msp-Landscaping-Now-hiring.jpg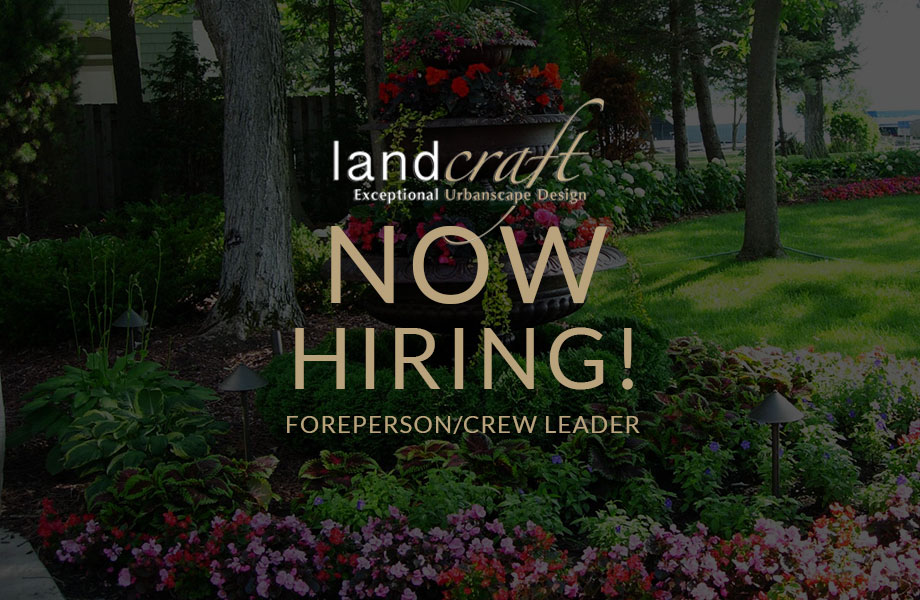 Now Hiring – FOREPERSON/CREW LEADER
FOREPERSON/CREW LEADER
Landcraft
Landcraft is a referral based business relying on successful relationships to create exceptional urbanscape designs. We are a design build and garden maintenance company based in South Minneapolis. The majority of our installation projects are small yard residential landscape renewals. We are committed to training, keeping, and valuing quality people to facilitate Landcraft's projects, gardens, clients and crews to be happy and successful.
Job Description-
A Landcraft crew leader or foreperson is the center of the communication between client, designer, and crew on each landscape installation. Working with crew members to set the pace, while creating a safe and positive work environment, is a critical role of the foreperson position. The foreperson will train crew members on equipment and safety procedures for Landcraft. The foreperson will also be interacting with the client, keeping them abreast of their project and any unexpected changes. The foreperson implements the plan they have devised for each day, getting the project installed within the estimated hours and materials, while keeping the designer/estimator up to date on any issues. The foreperson will need the ability to make decisions regarding any plan changes while on site. In the peak season overtime hours will be required.
Qualifications and Experience-
3+ years of landscaping experience
Need to have a valid driver's license and able to obtain a DOT health card.
Ability drive and back-up a truck and trailer
Ability to operate and train others to operate: skid steer, mini-skid steer, sod cutter, mason saw, bed edger, chain saw and any other common landscape installation equipment.
Ability to work off a scaled landscape design
Can perform physical labor which would include bending, pulling and lifting 50lbs. or more.
Qualities, Abilities and Skills
Time Management
Attention to detail
Enjoys managing people and working collaboratively
Self-reliant and energized when problem solving
Can excel and thrive in an ever-changing fast pace environment
Polite and respectful communication in all interactions
Pride in one's own appearance, workmanship and high standards and willing to share, teach and inspire it in all Landcraft crew members
Love to create unique outdoor spaces
CONTACT LANDCRAFT
Landcraft is your local Minneapolis Urban Landscaping company that can work with your budget and give you options on how to give you the backyard you have been dreaming about.  Contact us to learn more about us and to get a quote on your next backyard project.
PHONE: 612-834-8481